How it Works
If you want to import from China, our professional team at China Factory Sourcing will ensure you "get it right". Making sure there will be no costly learning from mistakes. We will help and guide you every step of the way.
Getting Started
1. Contact Us: Send an email or call us to discuss your sourcing needs. Once you have contacted us you will be assigned an account manager from our team. Your account manager will then guide you through the initial steps of opening your account with China Factory Sourcing.
2. What are your product specifications: Tell us in as much detail as possible the exact products you require. You can do this by filling in one of our sourcing request forms, your designated account manager will be happy to help and advise you to ensure you provide all the necessary details.
3. Quotes, negotiations and samples: Once your account manager has found some suitable suppliers and verified that they are legitimate factories (not trading companies or middlemen). You will be sent details of their results, delivery lead times and prices. Product samples can also be arranged and sent to you, allowing you to judge the suppliers quality for yourself.
4. Order approval and next steps: Once you have approved your order and confirmed all the details with your CFS account manager, we will then get to work;




5. Shipping and Logistics: When your goods have been produced and given final Q.C approval China Factory Sourcing will set about arranging all your logistics needs. We offer our customers the services of our own in-house logistics company. Proving ocean freight, air freight, international express and even postal services for smaller orders. All the export permits, tax paperwork and insurance and handles for you.
By choosing China Factory Sourcing as your import partner in China, we will help you to: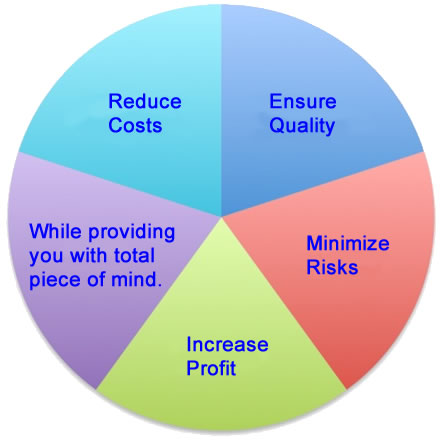 From factory floor, right to your door! We can help to arrange everything for you.
How it Works FAQ's
What products can we source for you?
CFS can help you to find any products that are made in China. Or if you require your own products to be custom manufactured, we will find the best factories for your exact needs.
Whatever products you require, contact us today and we will find them for you!
If you have already found a supplier, can we still help you?
Yes, of course. Many people contact us after they have found a supplier. We help them to verify their supplier, arrange safe payments, create contracts, quality control and arrange all their shipping and logistics needs.
We offer order consolidation services if you buy from multiple suppliers. Products from your different suppliers can be sent to our 10,000sq foot warehouse in Shenzhen, Southern China. We then combine them into 1 shipment, thus saving you both time and money!
What are the costs?
Unlike other sourcing companies, China Factory Sourcing does not charge any membership fees. We charge a simple commission on all orders of between 5% - 8.5% depending on the value of your order.
By using our Chinese speaking staff to negotiate with factories on your behalf, you can often save between 3 to 10% on previously quoted prices. That means that there could be no costs to you what-so-ever for using our services!